"Educated" is a memoir written by American author Tara Westover. Westover was chosen by Time Magazine as one of the 100 most influential people of 2019. As of May 2020, the book had been on The New York Times Non-Fiction Best Seller List for 114 weeks. It has been translated into multiple languages.
Tara's story begins in the shadow of a mountain in southeast Idaho under her father Gene, builder of barns and sheds with a hot-temper, and her mother Faye, a conforming midwife and healer, in the nucleus of a controlling family. Gene, Tara's father, transforms during her childhood from a charming man to a skeptic, paranoid, and schizophrenic parent.
The family's education was chosen and evaluated by her parents. Tara's older brothers attended school, but by the time Tara was born, all children were home-schooled due to fear and suspicion of the government. In theory, the children were being home-schooled; in reality, there was no academic instruction to speak of.
The psychological distress as well as abuse from multiple family members made Tara consider escaping. It wasn't until one of her brothers rebelled and attended university, that Tara saw the opportunity to do the same.
She was 17 years old when she stepped into a classroom for the very first time. Everyone was so different from her. Although most of the students there were Mormon, they were not fully devoted like her family. These people believed in the Mormon religion, but they did not practice it the way her family did. I mean was anyone else storing food and gas for the end of the world like her parents were? No.
Tara's ignorance surprised many of her classmates and professors, but that did not keep them from recognizing her talent and voracious hunger to learn.
"Educated" not only captures her exceptional upbringing but teaches us that will and strength can make the ordinary extraordinary. Although she is just another young woman who left home to get an education, she refused to accept her destiny and was brave enough to move into the unknown without turning back.
It is a captivating book that allows us to see opportunities amid despair.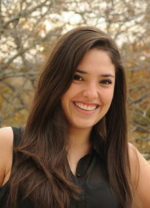 Rebeca Espinoza
Public Relations and Marketing