Have you ever been fully present? Completely aware and alert of yourself and where you are NOW?
Well, whether you have or are yet to experience, Eckhart Tolle helps you not only understand the importance of Presence, but how you can achieve it. After all, that is our purpose as human beings.
"A New Earth: Awakening to Your Life's Purpose" by Eckhart Tolle was first published in 2005 and sold 5 million copies in North America by 2009. In 2008 it was elected for Oprah's Book Club and featured in a series of webinars with Tolle and Oprah.
This "self-improvement book" teaches us many important lessons a helps us understand how transcending our ego-based state of consciousness is essential to happiness and the end of our suffering.
The first lesson that he dives into is our thoughts and how "the more that you make your thoughts (beliefs) into your identity, the more cut off you are from the spiritual dimension within yourself". Therefore, it is important to break away from your thoughts and lean more towards simply being.
The second lesson explains our ego and how our ego is not who we truly are. Our attachment to ego creates the dysfunction that leads to unhappiness, anger, and jealousy. Eckhart conveys how we need to awaken to a new state of consciousness, away from the ego, in order to create a new earth.
The final lesson involves being in the present moment. So many of us are so hypnotized and focused on either our past or our future that we forget that all we really have in NOW. That is where true power lies.
This book offers anecdotes and philosophies that is accessible and relatable to all.
Uplifting, illuminating, and enlightening, "A New Earth" is a profound spiritual manifesto that guides you to a better way of life and a new and better world.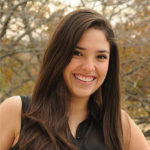 Rebeca Espinoza
Public Relations and Marketing